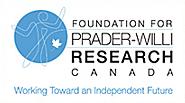 Haciendo realidad los sueños, paso a paso ("Making dreams come true, one step at a time") la organización nacional SPW de Canadá (Fundation for Prader-Willi Research, Canada) tiene la misión de "Eliminar los desafíos del Síndrome de Prader-Willi a través de la promoción de la investigación". La estructura nacional FPWR Canadá se centra en la investigación a nivel nacional y el apoyo a las organizaciones provinciales. Un gran paso hacia delante, como grupo unido de Canadá.
Así, el pasado 9 de mayo de 2009 FPWR, Canada fue anfitriona y organizadora de la "Medical Research Conference" en Toronto, Ontario. El siguiente video resume, en diez minutos, aspectos destacados de la conferencia:
Intervienen:
Dr. Theresa Strong, Scientist, FPWR Co-founder - Hope for Genetic Disorder.
Dr Jennifer Miller, Endocrinologist - Early GH Cognitive Benefits.
Dr. Glenn Berall, PWS Clinic NYGH - Clinic Protocols.
Dr. Rachel Wevrick, PhD, PWS Researcher - Types of Scientific Research Benefits.
Keegan Johnson, FPWR Canada President - Importance of Funding PWS Research.
Dr. Alice Viroslav, FPWR Co-founder - Importance of Funding PWS Research.
Más videos relacionados: http://www.youtube.com/user/fpwrcanada
Enviado por: F. Briones